Porcelain veneers give you the option of a completely transformed smile, which is whiter, straighter and noticeably different after just one visit to our practice.
Applied directly to the front teeth, veneers create dramatic results and are a permanent way to alter the appearance of your teeth.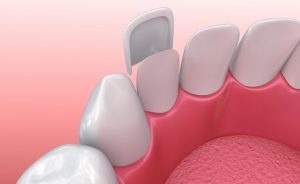 Veneers can give you a dazzling Hollywood smile, which is long lasting and a great alternative to teeth whitening or orthodontic treatments. They can also be used to close gaps between the teeth and to disguise chips in the teeth.
The treatment explained
At The Haringey Dentist, our cosmetic dentists will help you choose the exact shade of veneer to enhance your smile. We will then have the porcelain 'caps' specially built for you by our laboratory.
These will be permanently affixed to your teeth at your next appointment, so you'll be able to leave our practice with a completely new look after just a few hours.
Veneers can last you for many years as long as you care for them properly.
Please click here or call 020 8809 4960 to book your appointment.