We are proud to offer state-of-art dentistry technology to our patients. One of the most advanced systems we have at our practice is the iTero® intraoral scanner, which we use to map out the future progress of Invisalign® as well as other orthodontic and restorative treatments.
Using the iTero® scanner, we can create a highly detailed 3D map of your teeth and gums. With this data, we formulate a comprehensive Invisalign® treatment plan, complete with a visual representation of how your teeth should move throughout each stage of the process and how they might look once your treatment is complete.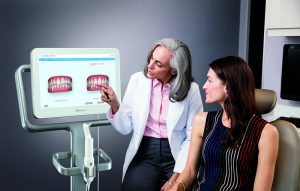 The iTero® scanner also enables us to send a digital impression to the Invisalign® laboratory so we can expedite your customised treatment plan. A digital impression is more accurate, less messy and has no unpleasant taste or odour typically found in a traditional mould.
We can also use iTero® scans to produce dental retainers, crowns, bridges, and implants. The system has revolutionised the way we perform treatments, enhancing the experience for our patients and facilitating a comfortable and accurate fit of dental restorations and Invisalign® clear aligners and retainers.
If you have any questions about the iTero® scanner, our team will be delighted to show you the technology and explain how it works in more detail.
To book please click here or call 020 8809 4960.