A dental crown gives your natural tooth added protection and strength after it has been damaged by trauma or decay. It is a commonly used and trusted dental restoration.
Built to blend in with your natural teeth and restore full dental function, crowns are long lasting and resilient.
At The Haringey Dentist, our dentists use crowns for a number of reasons:
To strengthen a tooth that has been damaged by decay or trauma
To protect the internal structure of a tooth that has undergone root canal treatment
To hold a dental bridge in place
Crowns are custom built for each patient by our laboratory team. They are made from a variety of materials and can be colour matched to your natural teeth so they completely blend into your mouth.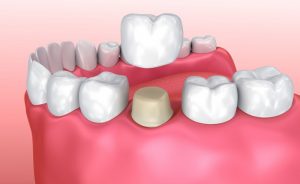 A dental crown can last for many years if you look after your teeth properly and maintain a thorough home care routine.
The treatment explained
If you require a dental crown, the dentist will need to remove the affected section of your natural tooth to make room for the restoration.
Impressions will be taken of your teeth so the laboratory can build your crown. At the next appointment, it will be permanently affixed to your natural tooth.
To book your appointment, please click here or call 020 8809 4960.