Dental inlays and onlays are used to protect and strengthen teeth that have been damaged by decay or trauma.
These restorative treatments are used towards the back of the mouth. An inlay is affixed within the four cusps (or corners) of a tooth and an onlay is placed to slightly overlap the corners of a tooth.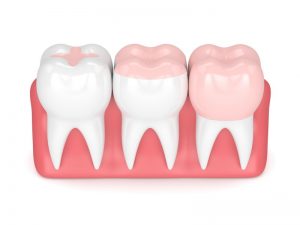 At The Haringey Dentist, our dentists use inlays and onlays that have been built from composite resin which is colour matched to your natural teeth. Inlays and onlays can also be made from metal such as gold.
The Treatment Explained
We will advise if you need an inlay or onlay following a dental examination and x-rays. It will be custom built for you by our laboratory team and ready for permanent fitting at the next appointment.
Inlays and onlays provide slightly more support than a filling and slightly less than a dental crown – they are a midway treatment which are effective and durable.
To book your appointment, please click here or call 020 8809 4960.